The world is changing before our eyes. Being stuck at home is no excuse to let your looks fall apart. Maintaining a sense of style helps us all keep our sanity. Why not get your hair cut or styled in the comfort of your own home?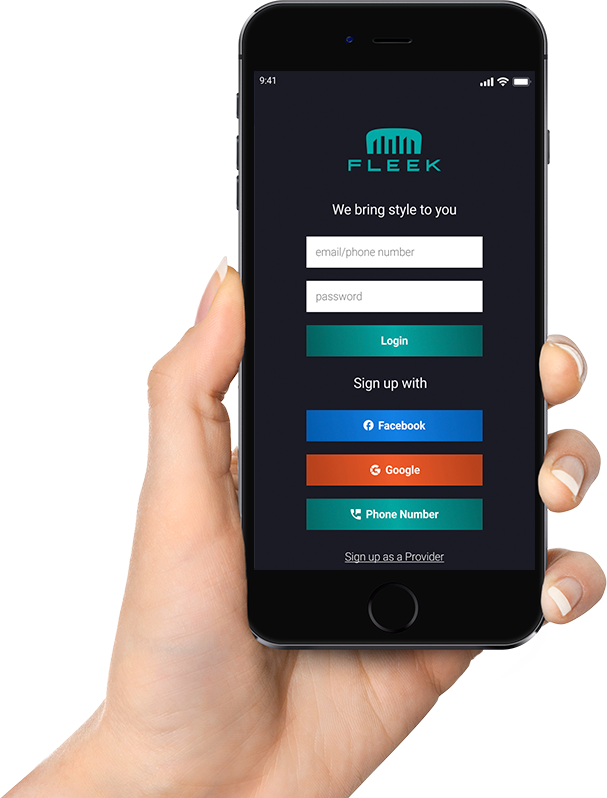 How Fleek Works
Fleek lets you find and summon stylists, barbers and beauty providers wherever you are. How it works: You enter your address, select the service you want and we'll show you stylist, barbers and beauty technicians within your area that will come to you. When you find what you're looking for, you can book your appointment through our app and let us do the rest. 
Services
What Fleek Offers
Barber
A good cut is key to a well crafted style. We offer grooming services specializing in haircuts, trims, traditional shaves and more.
Salon
Your hair is a precious commodity and should be treated as such. Whether you're in the mood for a new cut, style or color our specialists have the skill and technique to leave you looking your best.
Braiding
Go ahead and express yourself with our variety of braiding and extension services.
Nails
Get a posh pampering from one of our friendly pros. We offer a variety of nail services that give you all the good feels.
Hair Removal
Get your wax on…
Fleek Provider User Guide
Download the app here by clicking get started.
– Create a provider services FleekAccount on the Signup Page
– Select the services that you want to provide.
– Create a schedule, days and times of the week you will provide services.
– Enter the location in the app map where you will provide services.
Get ready for business!
Fleek Customer User Guide
Download the app!
– Set your location in the app map.
– Select a service that you need.
– Choose from a list of offered services or providers or search the app for nearby providers.
– Select a day and time for your service to be provided based on providers availability.
Get Fleeked!